Blueberry/Nyx Adopted 4/11/08 by Jason Keats
Jason polled all his friends to come up with a list of unique names for his new blue pittie," Nyx" came out on top! Although off to a great start, he experienced a very frustrating first month with Nyx, it seems she proved to be quite the escape artist (perhaps naming her "Houdini" would have been more appropriate). No kennel, zip ties, etc could hold her in while Jason was at work. Once out Nyx would go on a full force indoor rampage - shredding leather motorcycle shoes, hiking shoes & lots of computer charging stuff etc. Finally at his wits ends he spoke w/ Tim from BAD RAP who suggested using carabiners on her kennel but she still managed to escape during the day and continue on with indoor destruction. This situation seemed hopeless (& Jason considered bringing her back to BACS) UNTIL he came up with a "locking carabiner method" by drilling a hole in the carabiner and using a thredded nob (this "can take 2 people to open" but it contains her while he's at work!) Hooray for his creativity and persistence! Nyx started her training at BAD RAP & is now enrolled in a Therapy Dog Program recommended by a friend. She still has trouble with the command "Come" outside, she'd prefer to run away, but they are working on it. Jason describes her as "always overly excited" but without any aggressive tendencies. Nyx is very happy to "wrestle all day long" with his roommate's male Australian Shep and Jason is very happy things have worked out. It appears from the pic he sent below that Nyx also enjoys doing the Tango :>)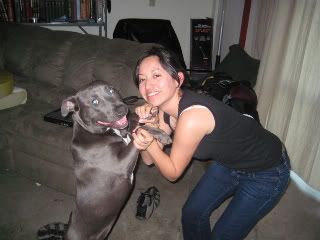 Gryphon Adopted 4/7/08 by Jason Clarke
Jason said Gryphon had house-training accidents (at least once a day) until a couple of weeks ago. Knows basic commands, "sit", "lay down" & "come here". At the beginning Gryphon would take anything he could get his mouth on (cell phone, socks, etc) and hide it in his special hiding spot in the backyard. The back door is left open for him to go in and out. Jason is home with him all day & Gryphon has yet to be left alone, however he has not been socialized with other dogs yet... He sleeps in his crate and sometimes wants to go to sleep early even though Jason would like to hang out some more with him. Gryphon has had a "massive personality change in the last month & become very calm". Jason said at first they were concerned but have been keeping an eye on him and he does not seem sick. I encouraged him to go to the vet sooner than later and to enroll him in puppy school for socialization & good behavior skills.

Anabelle/Lana Adopted 4/2/08 by Alexandra Weyrauch
Lana is named after actress Lana Turner, 2 blonde beauties indeed! Her first day out of the shelter included a visit to the Albany bulb where initially she displayed some fear of the water but now they cannot keep her out of it! Lana acclimated immediately into her new pack, she lives with both a Basset Hound and a St. Bernard. Alexandra takes her doggie trio swimming everyday to "try and burn off some of that energy". A special bond has formed between Lana and the Basset - the two of them romp together over and over and over again all day long! She has been experiencing some bouts of incontinence so a visit to the SPCA vet is coming up, other than that there have been no issues with Lana whatsoever. She is very playful, happy & has much love.

Toby Adopted 4/19/08 by Cynthia Hayden
Toby was a very lucky boy to have ended up with Cynthia. 2 weeks after he found his forever home, he had to have major surgery for bloat intorsion, when the stomach turns upside down.
" Had I not realized what was happening w/Toby due to having taken a pet CPR/first aid class at the Martinez shelter recently and rushed him to emergency, he would have died. Bloat/torsion is fatal quickly if not fixed by surgery. There is no exact cause, either. We had just returned from a Sunday dog training class."
He recouped just fine and is part of her happy doggie family consisting of "Ellie" female rottie, "Milo" shep/akita - the three of them get along very well. Milo sleeps in the bed, Ellie on the couch, and Toby on the floor by the bed - their locations of choice. Cynthia says Toby is one "big baby" and loves to be adored. Recently Cynthia took just Toby to the June-Teenth celebration in Richmond where he displayed model behavior. He let the kids crawl all over him! What a mellow sweet guy.

Shamrock/Money Adopted 3/24/08 by Carlomagno Seletaria
Money is doing well! He came home with no basic training but is now rarely having accidents in the house. The Seletarias have another dog, Bambi, a basenji mix they got from the shelter too a while back, she is one year older. Bambi and Money are good friends. Mrs. Seletaria thinks Money may have had a bad experience with a woman because it took him time to trust her while he bonded with her son & husband right away. He has gradually became accustomed to women due to her persistence in showing him love. Right now Money sleeps in the garage while Bambi sleeps in the bedroom. This is because he tends to chew everything in site although he has plenty of toys. I recommended puppy school to speed up the training process which would give him nighttime privileges (like Bambi) in the house. She agreed & said having him sleep in the house is the goal. (yay!) Her son takes great pride in his two friends and featured their picture in his college graduation memoir (see below).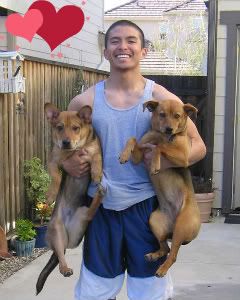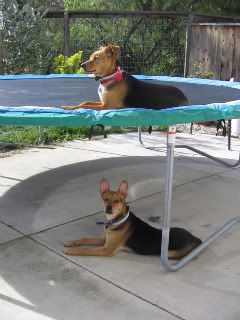 Oreo/Kahn Adopted 3/20/08 by Senta Stewart
Kahn is a "delightful doggie" & "a member of the family". He goes everywhere with Senta and has become best buddies with her other dog (a medium sized female mixed breed). The two dogs are inseparable. Kahn also lives with 4 cats he adores, every day he gives each cat a thorough "body check" in which he sniffs them all over as they stand still one by one. Too funny! He sleeps with the 4 cats, 1 dog, & his mommy, Senta, all on one big bed (they actually have their own but always end up in hers). Kahn rides well in the car and has already been to the ocean and Yosemite. Quite the life for this little guy! He does cry if left alone but I get the feeling that does not happen very often if at all.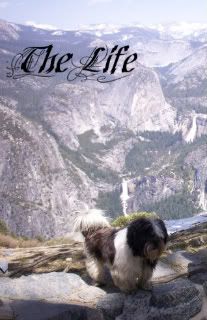 Hanzel Adopted 4/4/08 by Karen Fergus
Karen says Hanzel has become one of the family. He has no behavioral issues to speak of besides the normal "puppy chewing" issues. His housetraining is down except for a few "glad to see you squirts". Hanzel lives with a 6yr old cat who let's him groom her, let's say she tolerates it before she finally has had enough and swats him. He also has a couple of doggie friends that come over to play. Hanzel takes lots of hikes with Karen and spends most of his days outdoors and sleeps inside. Fortunately he has gotten over the habit of waking her every morning at 5 AM & is now adapting to her schedule. Hanzel has a crate and spends some nights there & some nights beside her bed. I e-mailed her puppy school recommendations per her request.
Honey Adopted 4/28/08 by Yukako Akera
See adoption success bulletin in the shelter lobby, there is a lovely card put together by Yakako and her daughters! It is apparent from reading their card, along with pix, that Honey is very much loved.

Gary/Gus Adopted 3/20/08 by David Isler
David says Gus is "happy as can be!". He plays well with the neighbor dogs but doesn't do well with cats (fortunately there are no cats in the house). Gus came home already house-trained and it took him no time at all to get all his obedience training down. The only issue David could think of is that Gus does not like to ride in a car, so I sent him a very good article on how to acclimate him by starting off with short fun rides to the park & gradually increasing the distance. Below is a very cute framed picture of Gus.
No original photo Charlotte/Ruka Adopted 3/25/08 by Mitchell Wilson
"Ruka is a ball of fire! She is very funny, very smart, stubborn and makes our lives fun".... ! She came home without ANY training so it was like training a brand new puppy, fortunately Mitchell has a lot of experience in this area (he uses positive reinforcement techniques). He is happy to report Ruka is coming along very well w/ basic commands and rarely has accidents in the house.. Ruka adapted very well with the other dog, Cyrus, a chow (also from BACS). He believes she is a corgi/basenji mix , " 2 very spirited breeds leading to one very spirited little dog!!!" Mitchell ended this call by saying "the Berkeley Animal Shelter is one of my favorite shelters in the country. I LOVE the Berkeley Animal Shelter!". Wow, that was a wonderful call to make.
No original photo Cecily/Dulci Adopted 3/21/08 by Gregg Richardson
Dulci is a "lovely, affectionate creature" - when I called they were out on a walk, the beauty of cell phones! She is a pleasure to have & everyone is very happy, however, Dulci is not yet house-trained. She sleeps with Gregg at night and doesn't have any accidents but as soon as they get up, she lets loose. He has consulted a dog trainer, his neighbor, that might work with her....also thinking of using a litter box or pads & would like some advice on those 2 options. I e-mailed a couple of articles from the internet. Gregg feels concerned about a small young dog having to hold her bladder for nine hours until someone gets home & is hesistent to crate her. Dulci gets along wonderfully with his other dog, a 3 yr old pommeranian, and plays well with all the dogs in the neighborhood. Gregg exclaimed "Dulci has EXCELLENT social skills".
Amber /Arabella adopted 3/12/08 by Heather Driscoll
Arabella is doing fantastic! Living up on Panorama Hill, she goes on lots of hiking adventures & runs every morning up on the fire-trail with Heather and her big brother, Otis, who she gets along with famously. She adjusted to life in her new home quickly, and demonstrated no food aggression at all, as reported by her first adopters. Arabella quickly picked up good off-leash manners from her brother, and learned to come at the first call of her name. With her long gangly legs and sweet, tentative manner, Heather says she sometimes reminds her of a doe, rather than a dog. At the end of the day, Heather often comes home to two entwined sleeping dogs and a houseful of tousled cotton rugs, attesting to the antics the two must have engaged in during the day. A very happy ending for this sweet girl, who was so scared upon first arriving at the shelter, that she had to be carried out to Aquatic Park on her first "walk."